Turn in Applications to:
Your school office, cafeteria or district office
Meal Applications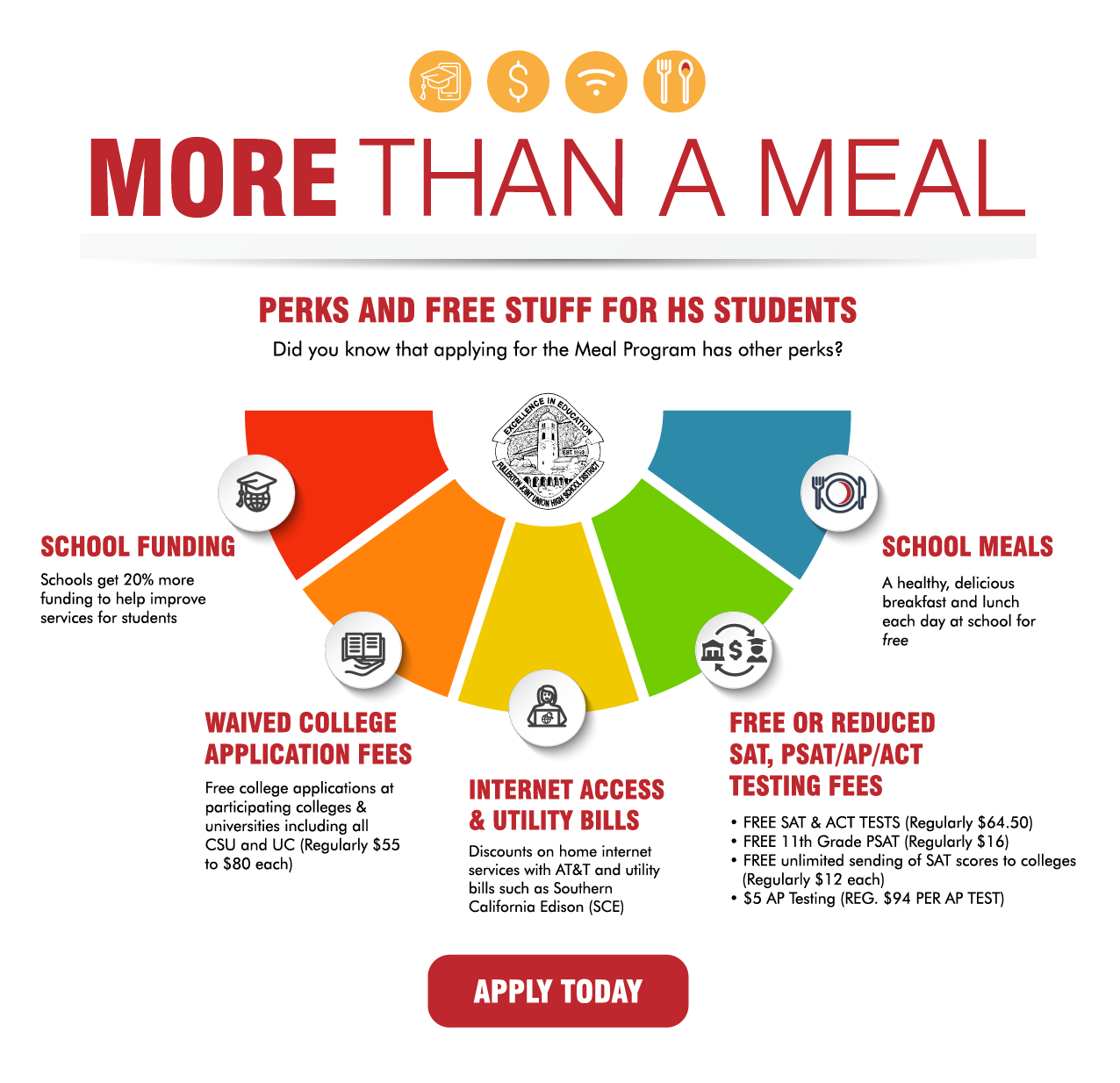 More Than a Meal | Benefits and Perks
The District and my school announced meals are free to all students for the 2020-21 school year. Why do I need to complete a Free and Reduced Lunch Application form?
While it is true all students will receive a free meal (breakfast and lunch) during the 2020-21 school year, officially enrolled students may receive other benefits such as reduced costs for home internet access, fee waivers for the SAT/ACT exams, some College Applications and fee reductions for AP Exams.
Who is eligible for the Free and Reduced Meal Program?
Please check the Income Eligibility scale to see if you meet the income thresholds.
How is internet access and utility bill discounts connected to the Free and Reduced lunch application program?
Inquire with your current internet service provider and utility provider (i.e. SCE). Companies such as AT&T offer reduced rate home internet service for families who qualify for the Free and Reduced lunch program and NSLP (National School Lunch Program)
Did you say "fee waivers for SAT/PSAT?"
Sure did! SAT fee waivers are available to low-income 11th and 12th grade students in the U.S. or U.S. territories. U.S. citizens living outside the U.S. may be able to have test fees waived. SAT Subject Test fee waivers are available for students in Grades 9-12.
You're eligible for fee waivers if you say "yes" to any of these items:
You're enrolled in or eligible to participate in the National School Lunch Program (NSLP).

Your annual family income falls within the

Income Eligibility Guidelines

set by the USDA Food and Nutrition Service.

You're enrolled in a federal, state, or local program that aids students from low-income families (e.g., Federal TRIO programs such as Upward Bound).

Your family receives public assistance.

You live in federally subsidized public housing or a foster home, or are homeless.

You are a ward of the state or an orphan.
More information and brochures with application and income information can be found at: https://collegereadiness.collegeboard.org/sat/register/fees/fee-waivers
Can you expand more on fee waivers, just for being eligible for the Free and Reduced lunch program?
The College Board fee-waiver service assists qualified, economically disadvantaged students who plan to take the: SAT/SAT Subject Tests/PSAT/NMSQT/AP Exams. A student must be either enrolled in or eligible for the Free and Reduced lunch program to receive a fee waiver. Contact your school counselor to inquire and get more information.
The following are some benefits of fee waivers:
Take the SAT for free - You can take the SAT two times for free and six SAT Subject Tests for free after accepting.

Avoid Late Fees - No fees for late registration for free tests - this includes SAT and SAT Subject Tests.

Waived College Application Fees - Your fee waiver benefits grant waived application fees at participating colleges.

Unlimited Score Sends - You can send your scores to as many colleges as you choose for free with your fee waivers.

Waived Financial Aid Applications - Free CSS Profile™ applications to apply for financial aid from participating schools.

Earn College Board Opportunity Scholarships - Class of 2021 can earn up to $40,000 with our new scholarships, and more than half of those awarded will be for fee waiver eligible students.
Visit the College Board fee-waiver link for more information:
https://signup.collegeboard.org/accept-sat/?SFMC_cid=EM209175-&rid=124704034
How does the Free and Reduced lunch application program affect school funding?
The school district receives up to 20% more funding per student who applies and qualifies for this program, has a low income threshold, is learning English, or in foster care. Districts receive additional funding to support all schools and increase/improve services for all students. By completing the free and reduced lunch application, it ensures your school receives all available Federal, State, and local funding.
Do I still need to fill out a form if I qualify for other benefits?
No. If you are currently receiving benefits from CalFresh (formerly known as food stamps), CalWORKS, KinGAP or FDPIR benefits and your information has not changed, your child/you automatically qualify.
Can I fill the application out online?
Yes, simply complete the Free and Reduced Lunch Application form online.
Application Completion Tips to expedite application approvals:
Use BLACK or BLUE ink. Print clearly.

Use your student's name as it appears on their birth certificate

List all other household members

Fill in the last 4 digits of the Social Security Number for the signer or write "NONE"

SIGNATURE IS REQUIRED

Foster Child may be completed on a separate form. However, new regulations state that foster children may be included in the household application as part of the household size.
HOUSEHOLD SIZE is considered ALL persons, related or unrelated, including parents, children, and grandparents who live in your home and share living expenses.
TOTAL HOUSEHOLD INCOME is the income each household member received last month before taxes – this includes wages, social security, pension, unemployment, welfare, child support, alimony, and any other cash income.
Other factors considered in the application process are foster children and families receiving CalFresh, CalWORKs, Medi-Cal, Kin-GAP, and/or FDPIR.
FOSTER CHILDREN may be eligible for free and reduced price meals regardless of your income. If you have foster children living with you and want to apply for them, you may complete a separate application for your foster children or add them to the application with the rest of your family.
CalFresh, CalWORKs, Medi-Cal, Kin-GAP, FDPIR – if your household currently receives benefits from CalFresh or CalWORKs, you may be part of the State of California's Direct Certification and you DO NOT FILL OUT A MEAL APPLICATION. The State of California will send us the names of our students receiving benefits and they will automatically be entered into the system. If you do not receive an eligibility letter from the District stating that your high school student is part of this, then you will need to fill out an application.
Questions: Contact the District Food Services Division at 714/870-2820 | foodservices@fjuhsd.org| 1051 W. Bastanchury Rd., Fullerton